In-Store Tastings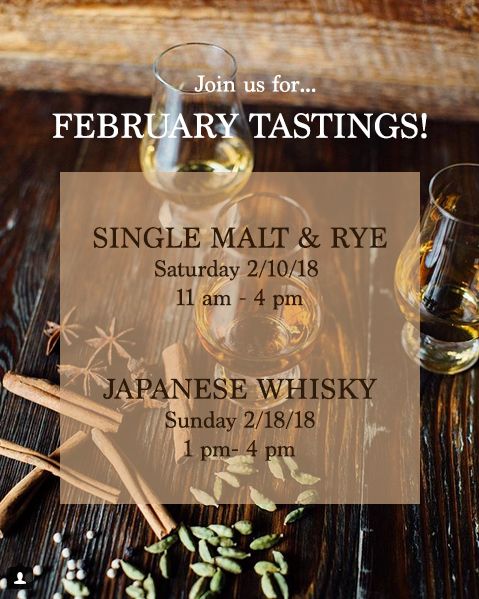 Join us in February for free in-store tastings!

SINGLE MALT & RYE WHISKIES: Saturday 2/10/18 11 am - 4 pm
Valentine's Day is fast approaching! On February 10th, you'll have the opportunity to sample several different styles of whiskey side-by-side: Scotch from Tamdhu distillery in the Speyside region of Scotland, American Single Malt from Whiskey Del Bac in Tucson, Arizona, and Rye Whiskey from San Diego Distillery. Try before you buy and pick out the perfect bottle for your Valentine.

JAPANESE WHISKY: Sunday 2/18/18 1pm - 4 pm
We are excited to announce that Japanese Whisky producer Fukano Distillery will be in store on February 18th! Now's your chance to ask questions and taste with the creators of one of our favorite distilled-from-rice Japanese Whiskies. There will be bottle signing and free t-shirts with each purchase.

In-store tastings are free do not require tickets or reservations. Just show up! We hope to see you all there.